Swiss Team game added to Pro-Am schedule
starting September 20
Players in the Thursday Pro-Am (mentoring) game are up for something new and fun starting September 20, when they'll learn to compete in a Swiss team game. "Players can come with their regular partners and I'll put them with another pair to make a team for the day," says Director Gary Chaney. Swiss team games will be held the third Thursday of every month through December, or longer depending on how much players like them.
Lee Baatz will teach Swiss team strategy and scoring at the noon mini-lesson before the first game. "It's the same bridge you've always played," says Lee, "but bidding and playing strategies are a bit different. Whether or not you attend the lesson, you'll quickly learn what's new."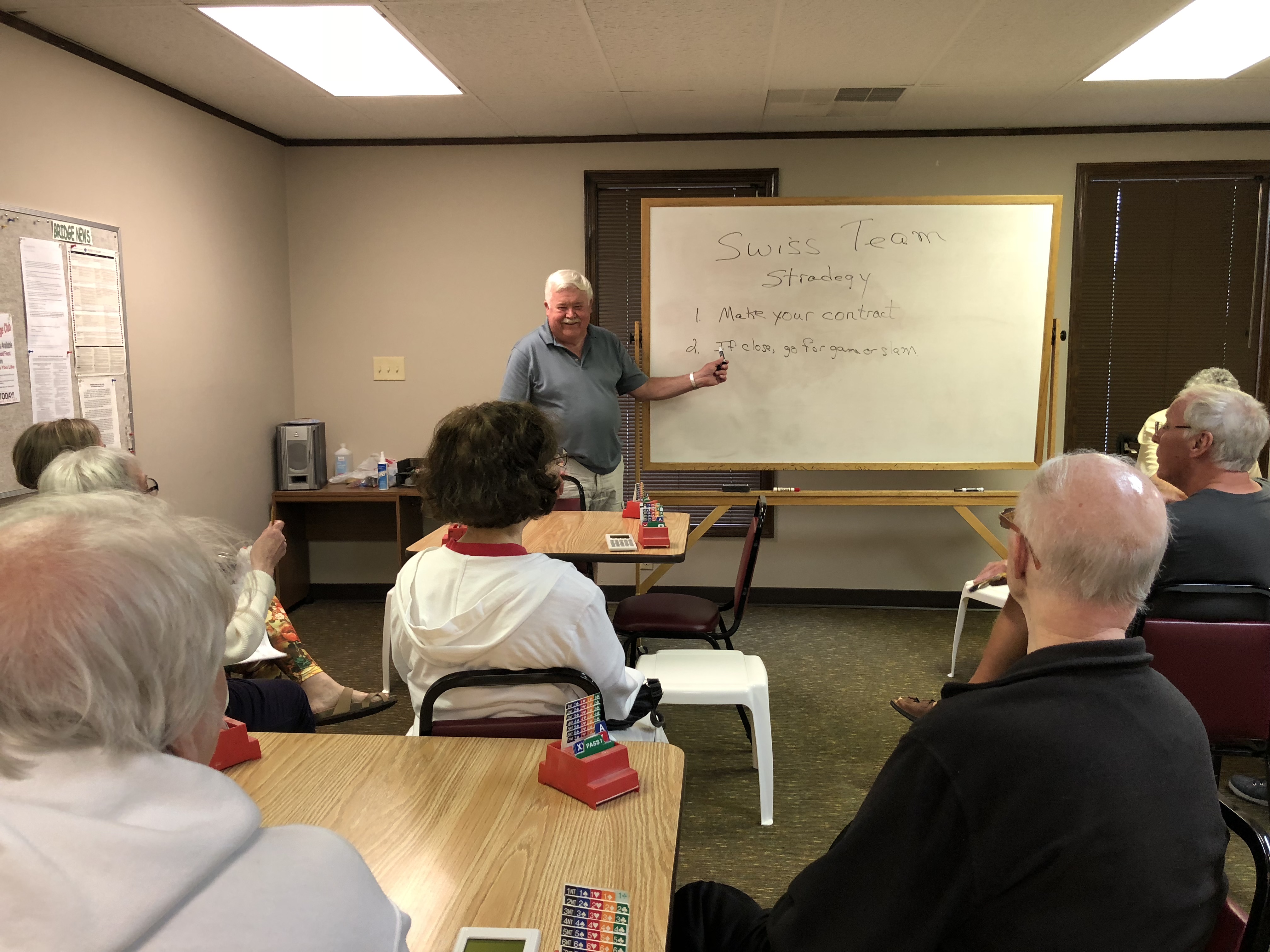 In Swiss teams, one team's East-West pair plays another team's North/South pair and vice versa for six hands. Then results are compared and the team with the better score wins the round. In the next round, teams who won play other teams who won and teams who lost play those who lost, and so on. Four rounds will be played, with teams always playing teams they haven't faced before.  At the end, there will be overall winners and many teams will win a round or two.
All club games from October 30 to November 3 will be STaC ("sectional tournaments at clubs") games. They're played as usual, but winners get extra points and they're silver. It's a great way to gain the silver points needed to become a Life Master or higher. More details soon!
Partners are guaranteed at all Tuesday 0-299 games through December.  No need to call ahead; just show up, meet your new partner, and play.  Questions?  Call Jim Kart (260-438-1268)
We want our new website to meet your needs. If you have any suggestions, please send them to Judy Nelsen at judprof@ameritech.net.
Find your way around our new website!
We hope you like our new and revised website. It's a bit different, starting with the way the pages are labeled and organized. Here's what to look for: