Lots of ways to learn at the FWDBC
Our Club offers many opportunities to learn and improve your bridge game. The more you learn, the more fun it is to play duplicate bridge!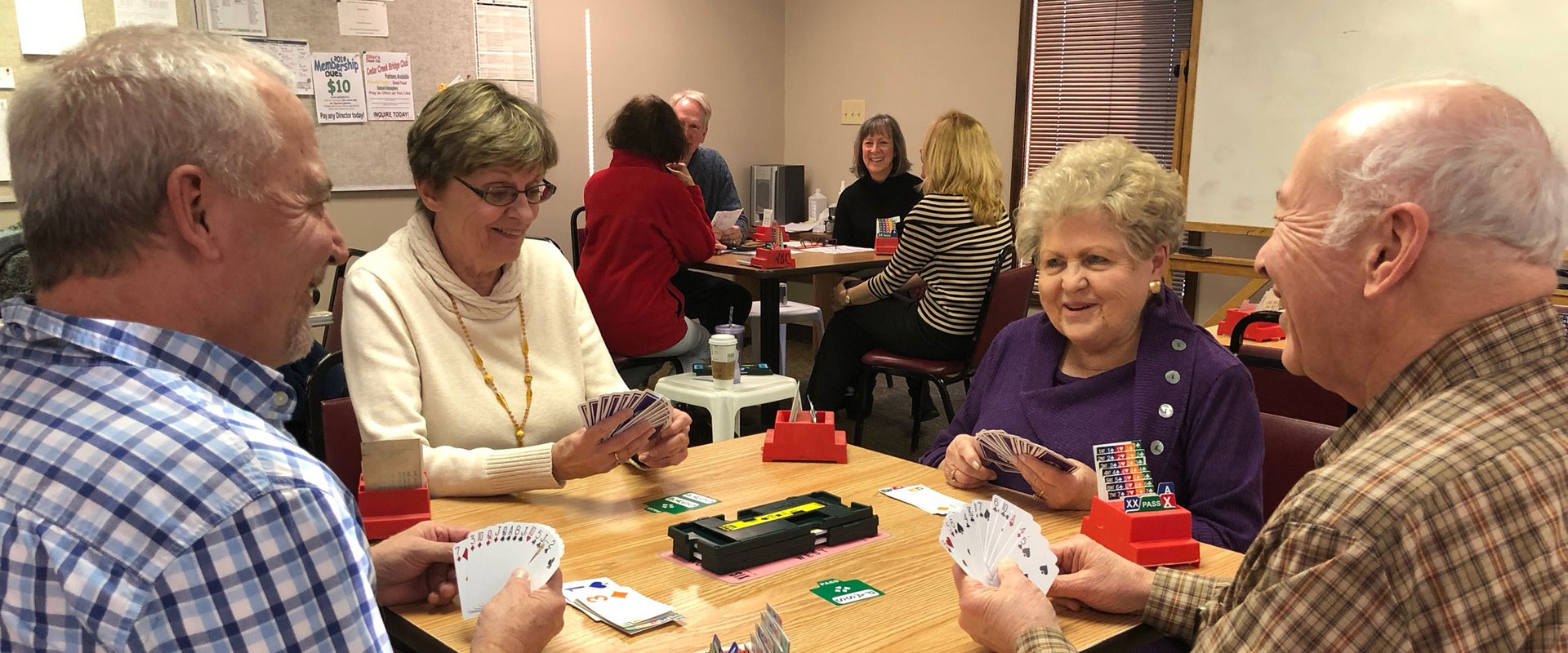 Rubber bridge players welcome – learn how to play duplicate bridge!
Beginning and intermediate duplicate bridge players:
Play in the Pro-Am (mentoring) game on Thursdays at 1 PM. Come with a partner or be matched with one (unless you have more than 300 MPs). If you have any questions, call Gary Chaney at 419-438-2175 or email him at

[email protected]

.
Attend a free mini-lesson is offered from 12:15 – 12:30 PM before most Thursday games. Check Calendar for dates and topics.
Two-hour seminars, each focusing on a specific bridge topic, are held on Tuesdays and Wednesdays once or twice a month. Check Calendar for dates and topics. The fee is $5 per seminar.
Want to take a formal class?
Our club's Paul Knepper Bridge Academy (named in honor of long-time player and bridge teacher Paul Knepper) offers three classes for people who want to learn to play bridge or improve their skills. All classes are taught at the club by nationally certified bridge teachers.
Each two-hour class session includes readings, teaching, and guided bidding and play of pre-dealt bridge hands. The $50 fee for each class includes a textbook and all other course materials.
Bridge 101, offered for nice weeks each spring, covers the basics of bridge for those who have never played or never fully learned the game. It focuses on bidding the hand but also introduces play of the hand and defense. The next Bridge 101 class will begin in May of 2024. Check this website early in 2024 for dates and times.
Bridge 102, offered for nine weeks each summer, furthers the learning of those who have taken Bridge 101 as well as those who play bridge but want to improve their game, with a special focus on play of the hand.
Bridge 103 will begin on Thursday, September 28, 2023, at 10 AM, and meet weekly at that time until November 16. This class will help players continue to sharpen their skills, with a special focus on defense. If you are interested in joining this class or would like more information on any class, please contact Gary Chaney at 419-438-2175 or [email protected].