Member News

More than 170 players consider the FWDBC their bridge "home." Most are Club members and regular players in some of our seven ACBL-sanctioned games each week–See Games/Calendars . We welcome rubber bridge players new to duplicate , and the Club offers many ways for players to Learn. Visit us anytime!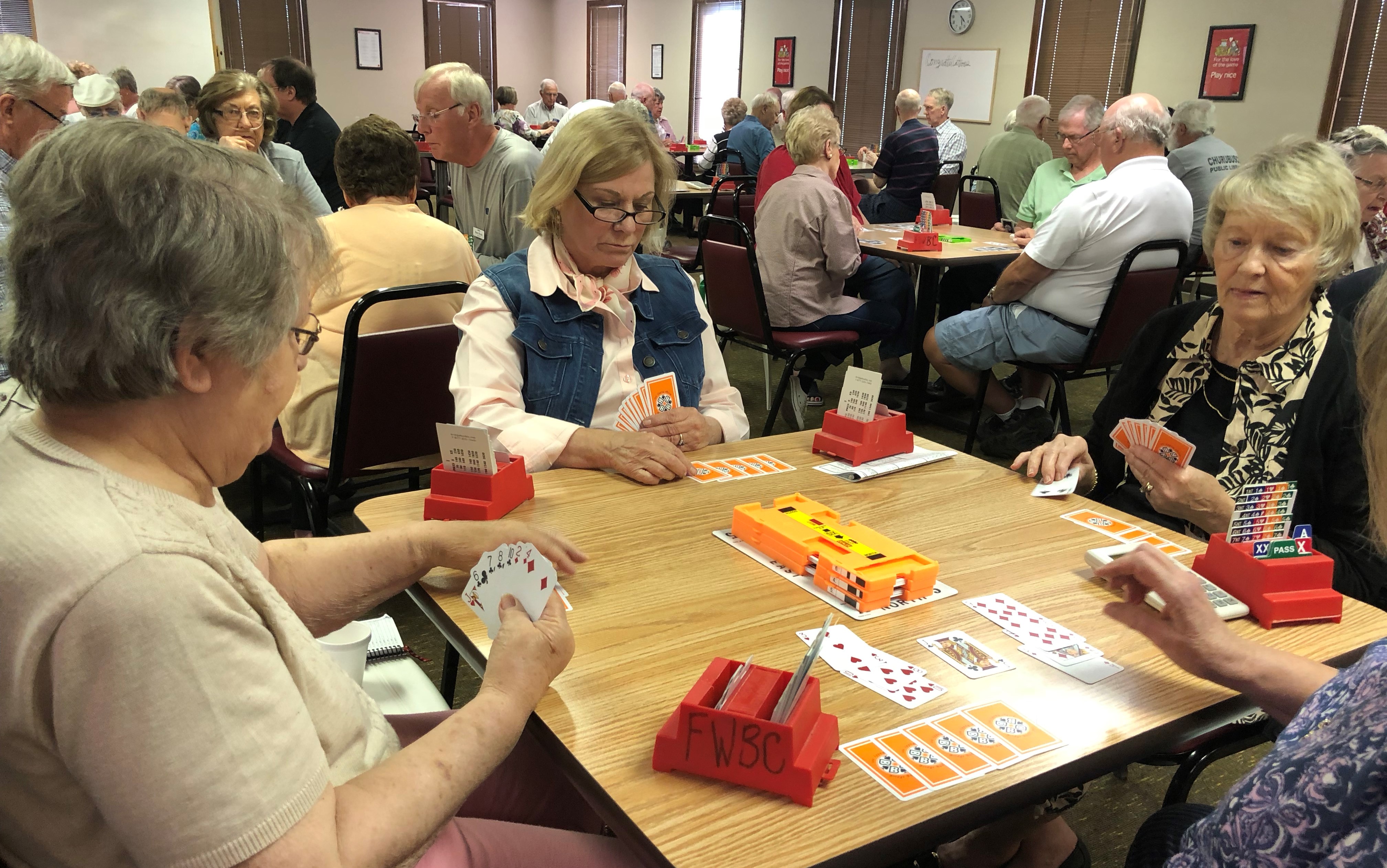 Congratulations to our New 2018 Life Masters and above!

2018 New LIFE MASTERs at Various Levels of Master Points(MPs):
GOLD LIFE MASTER (2500*): Donald Ferguson, Rose Ferguson, Mary Lou Clegg,
RUBY LIFE MASTER (1500*): Carl Minick
SILVER LIFE MASTER (1000*): Larry O'Maley, Dick Petersen
BRONZE LIFE MASTER (750): Lee Baatz, Pat Kelly
LIFE MASTER (500*): Otto Bonahoom, Sarah Colvin, Pat Kelly, Carol Watters
Mary Lou Clegg
And to these others moving up in the ranks in July and August 2018:
NABC MASTER (200*): Allen Pinkham
REGIONAL MASTER (100*): none

SECTIONAL MASTER (50*): Stan Davis
CLUB MASTER (20): Ronald Blue, Jo Holm, Roy Martin, David Dinius
JUNIOR MASTER (5): Pat Adsit, Christine Capen
[* = various levels of black, silver, red, gold, and platinum MPs are required]
Upcoming Events!

At the FWDBC: Pro-Am Swiss team games every third Thursday of the month through 2018. It's fun! Come with your regular partner and Gary will make up teams.
Northwest Indiana Fall Sectional – October 19-21, 2018 in Highland, IN
Toledo Ohio Fall Sectional – October 26-28, 2018
At the FWDBC: STaC Week October 30 – November 3 at all games. Silver Points!
Member Telephone Directory – If you would like to be included in the FWDBC directory, please send your telephone number and email address to fortwaynebridgeclub@gmail.com.
For current club news, make sure you're on our email list! To receive our emails, please send your email address to fortwaynebridgeclub@gmail.com.
See also: 2018 FWBC Masterpoint Race